In case you don't watch Gilmore Girls… 1. Get out, and 2. This post's title is in reference to the show's theme song. As a die-hard Gilmore fan, I am overcome with emotion at the news that the show's revival has been made official.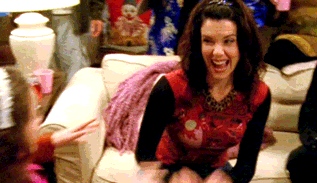 In case you haven't heard, Gilmore Girls (which ran for seven seasons from 2000-2007) is being brought back by Netflix for a four-part series set in the present day. The news was rumored a few months ago and confirmed a couple of weeks ago. I would have blogged about it sooner, but I was too busy hyperventilating over the announcement. 
Gilmore Girls is my favorite show of all time. There are other shows that I love, of course, but nothing rivals Gilmore Girls.
Trying to explain what I love so much about Gilmore Girls has me stumped. It's hard to describe, but there's really nothing else like it on television. It appeals to many age groups because while aimed at teenagers, it isn't too dramatic or over the top, and has themes of family, love, and friendship that resonate with a wide variety of viewers. The show is mature, but not too serious or heavy.
And it's funny! The humor is incredibly fast and smart. If you enjoy political or pop culture references of any kind, this is your show. The bits, the one-liners, and the back-and-forths kill me no matter how many times I see them. For the record, I've seen each episode (of which there are 153) at least a dozen times. I exaggerate a lot in life. This is not one of those times.
Also, the show is relatable. The characters and I share views on many things:
Growing up I related mostly to Rory. I was very academically focused and I've always loved to read. I keep a few close friends, I want to travel the world, and overall, I just want to do something worthwhile with my life.
While I still resonate closely with Rory, I find myself liking Lorelai more now. She just gets me.
Lorelai is my comedic inspiration, and at a time in my life when I'm on my own for the first time and trying to figure out how this whole adult thing works, she has a been a great role model for how to be independent and self-sufficient.
I think Netflix is the perfect platform for reviving the show. Fans have wanted a movie for years, but I think this is better. Putting the revival on Netflix allows for something longer than a movie, which will let the show go into the depth it deserves. I want fully fleshed out and completed story lines, which I don't think a movie would be able to do.
Also, the show is already on Netflix and has been very popular on the site. I was very excited when the seven seasons were put up, but it's not like I don't already own them all on DVD…
As the title of this post says, though, I will love Gilmore Girls no matter what it decides to do (unless Rory ends up with Dean, that would be a deal breaker).
While I could easily write a whole thesis on Gilmore Girls, I'm going to stop here. Prior to the revival, I will write another post outlining the things I want to see in it, and after I hunker down to view the four 90-minute episodes, I will post again with my reaction. Between now and the revival I may also do a post on which of Rory's boyfriends I prefer (#TeamJess) and why, or maybe I'll do one about why Rory shouldn't be defined solely by which guy she's with. After all, she did end up choosing none of them.
Until then, I will continue to binge watch the show religiously. I suggest you do the same.